The most visited attraction in Karlovy Vary region
Do you know where every sixth visitor to the Karlovy Vary Region is heading? To the Boheminium Park, Mariánské Lázně, the fourth largest miniature park in Europe! Exclusivity of the concept is not only with its unique setting in nature, but also with a wide offer of incredibly detailed 1:25 scale sophisticated Czech monuments. With its 130,000 visitors per year, it is no wonder, that our Park became the most visited attraction in the region.
Karlštejn Castle, Ještěd Tower, Červená Lhota Château, Hvězda Summer Palace and Český Krumlov Château. This is just a short list of more than seven dozens of perfect miniatures of major structural and technical monuments of Czech Republic.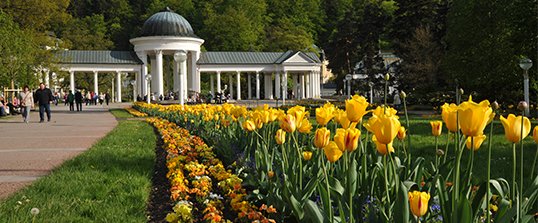 Mariánské Lázně - one of the most beautiful cities of Europe
Mariánské Lázně - splendid spa parks, romantic colonnades and charming pavilions, pleasant cafés and cozy hotels. Fabulous place, a second largest spa city of Czech Republic, endowed with healing mineral springs and unique atmosphere. Thousands of guests come to Mariánské Lázně to enjoy the extraordinary experience every year.
The main attraction of Mariánské Lázně – Singing fountain and Miniature Park Boheminium
The world-famous destination is an extraordinary spectacle for everyone. An impressive experience for city guests is visit of the Singing Fountain, Spa Colonnade, the Theater or the unique Miniature Park Boheminium. Mariánské Lázně is an impressive place of outstanding experiences, fun and events!

Practical – Miniature Park Boheminium Mariánské Lázně
The snow-white walls, crenelations of the tower…

Dominant and symbol of our Park is…

Fabulous château of Bohemia surrounded by the…
Impressive and architecturally beautiful dam with power…

Great attraction for kids – working models…

Impressive construction and real jewel of the…