Colonnade of Mariánské Lázně
Colonnades used to be the center of spa life. Since 1888-1889 the neo-Baroque main Colonnade became the dominant of the spa promenade in Mariánské Lázně. Nowdays its also called Maxim Gorky´s Colonnade or the Main Spa Colonnade, ie. the Cross Spring Colonnade and it is one of the most popular places in Mariánské Lázně.
The Colonnade was designed by Vienesse architects Miksch and Niedzilski to the decision of Teplá Monastery Abbot. The buillding was cast in Blansko´s ironworks and then assembled in place of the original spa promenade. The colonnade of the cast-iron structure has an impressive extents of 119 x 12 meters. It is decorated with a series of ceiling frescoes with motives of "The Desire of a Man to Fly" and bronze reliefs on the walls.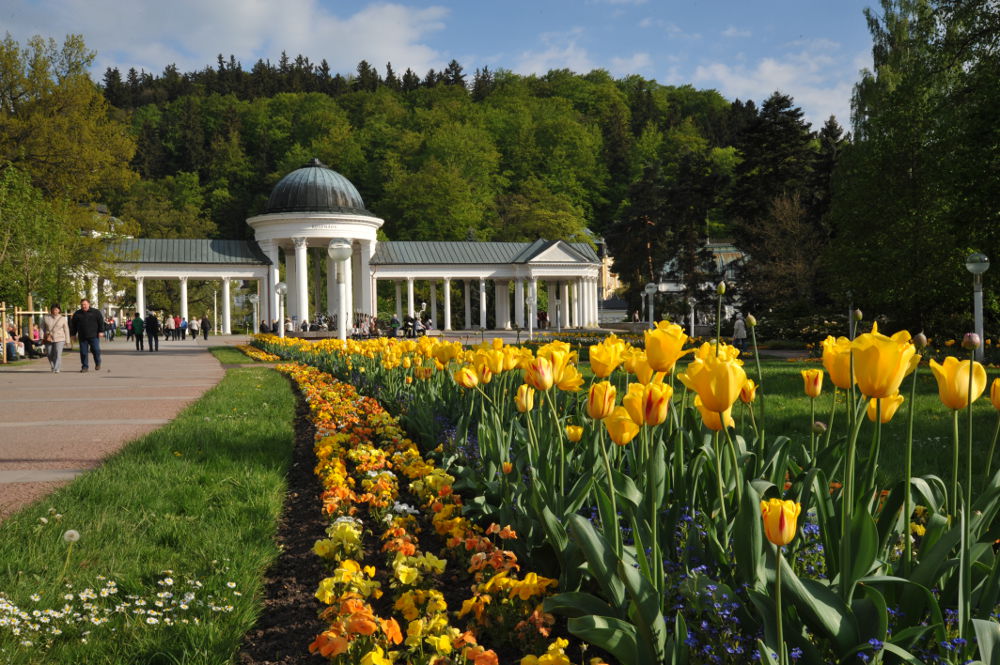 A unique construction survived the war period. During WWII, it was threatening to disassemble and use it in weapon production. Fortunatelly it outlasted this gloomy period pretty well. In the post-war period it never did any reconstruction. In 1951, in the middle of the spa season, the name of Maxim Gorky came back and the Colonnade has gotten new name "Maxim Gorky´s Colonnade!".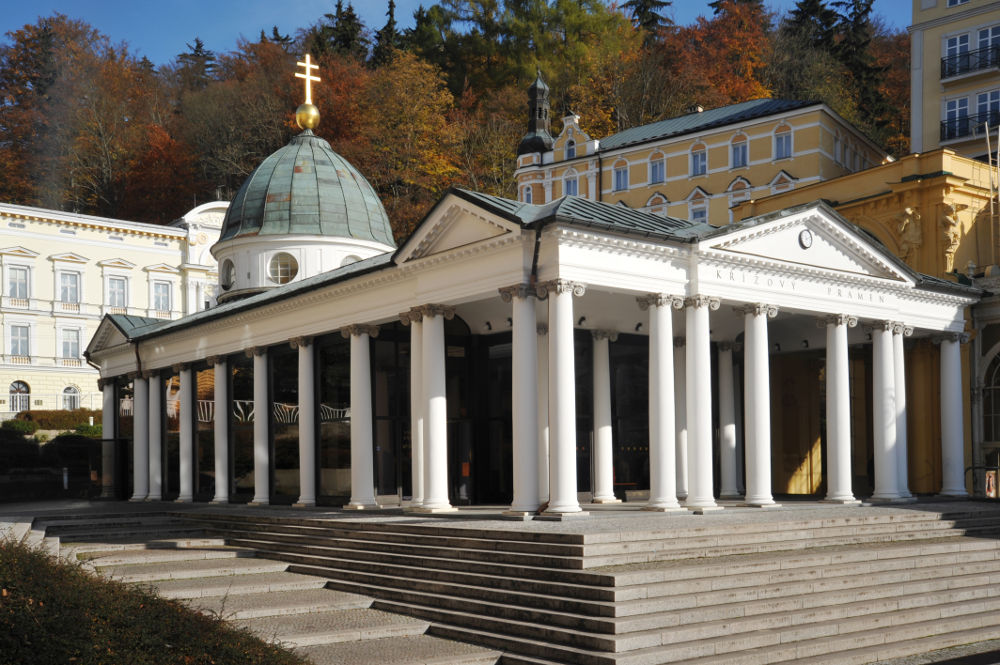 The first reconstruction of the Colonnade took place in 1976. After, in 1979 it was decorated with cassette ceiling and ceiling frescoes by the academic painter Josef Vyleťál. After, in 1981, the re-newed area was opened. Years passed and finaly the main Colonnade was opened in 1986. It was great occassion.
On 8 February 2010, the Government of Czech Republic approved the proposal of the Ministry of Culture of Czech Republic to include the Maxim Gorky´s Colonnade together with other 37 monuments of Czech Republic on the list of national cultural monuments. On July 1, 2010 the Maxim Gorky´s Colonnade became the national cultural monument of Czech Republic.
.