Ferdinand´s spring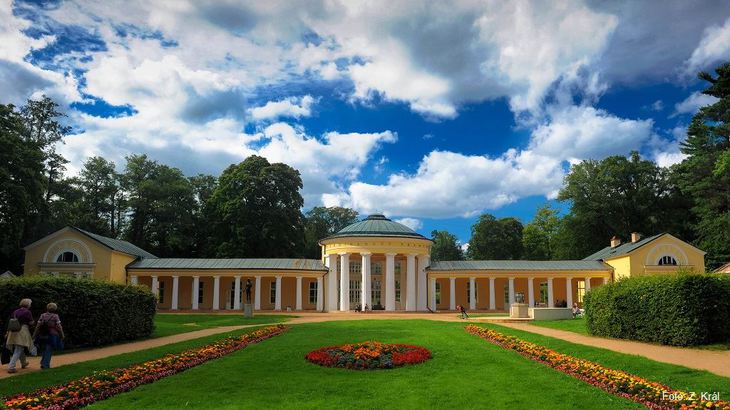 Ferdinand spring is the oldest mineral spring in Mariánské Lázně. It has 7 springs on the Ferdinand spring colonnade, surrounded by the wonderful park. Spring Ferdinand I. is used for drinking cure and is bottled under the name of Excelsior water.
This water has a markedly salty taste with a composition similar to the Cross Spring (křížový), but more mineralized. It is an earthy ferrous acid with a lower mineral and a high calcium content.
The spring is named after King Ferdinand I, who had the spring examined already in 1528 with the purpose of extracting salt from it. The classicist Ferdinand colonnade was built in place of the wooden hut, at the instigation of the Abbot of the Teplá Monastery, Reitenberger, in 1827. The Colonnade is fabulous architectural sight till now, surrounded by the spa parks.
In the period of 1850-1860 several attempts to lead the spring water to the colonnade was made. Unfortunatelly the high diferrence of 43 m was too huge. But in 1870 it was succeed. Earlier was the colonnade and its surroundings used to a several purposes – there was a café, bottling plant, guard man´s house or museum. From 1922 to 1926, by the leading of Dr. Ing. Benno Winter, some wells were made. Finally seven spring wells were explored. These mineral water are used in drinking cure, baths and is also popular in a bottled version.