Singing Fountaine
The Singing Fountain is the most popular tourist attraction in Mariánské Lázně. You can find the fountain at the main Colonnade near the Abbat Reitenberger´s monument.
The Fountain sings daily from 7 a.m., every odd hour. The compositions take turns in a regular sequence. At night (9 p.m. and 10 p.m.) you can admire the fabulous performance of color lights. The annual opening ceremony is on 30 April, at 9 p.m. The close ceremony of the spa season is on 31 October, at 10 p.m.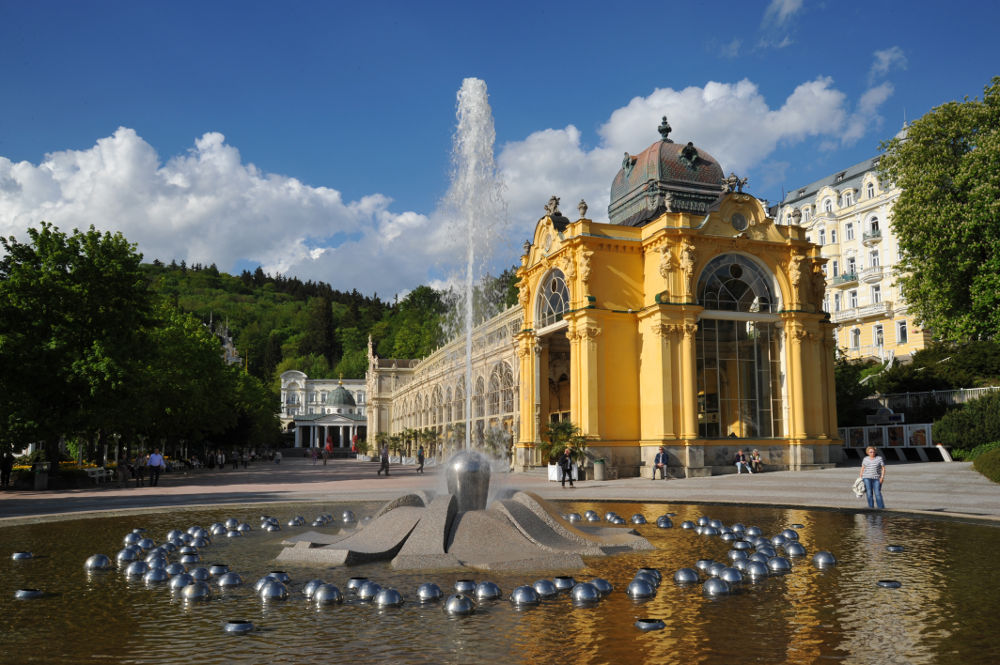 The circular stone fountain about average of 18 m, decorated with a 12-piece stone sculpture representing a flower and equipped with more than 250 jets. Rim, pool tiles and sculptures are from Liberec's granite.
The Fountain has ten basic spraying systems. Two of them are made up of 330 nozzles from tubular rings around the perimeter of the fountain pointing to its center. The dominant mid-spatter reaches six meters high. Four systems with several hundreds nozzles pointing from the metal center of the sculpture to the perimeter of the fountain. From these sprays, it is possible to create several dozens of combinations that vary according to the program set by the computer that controls the entire program. The technical background is located in the underground beneath the fountain. It consists of a machine room with ten pumps with a power of 70 kW, an accumulation tank of 25 000 liters of water and an electric substation. The control room with the computer is located in the area of the colonnade.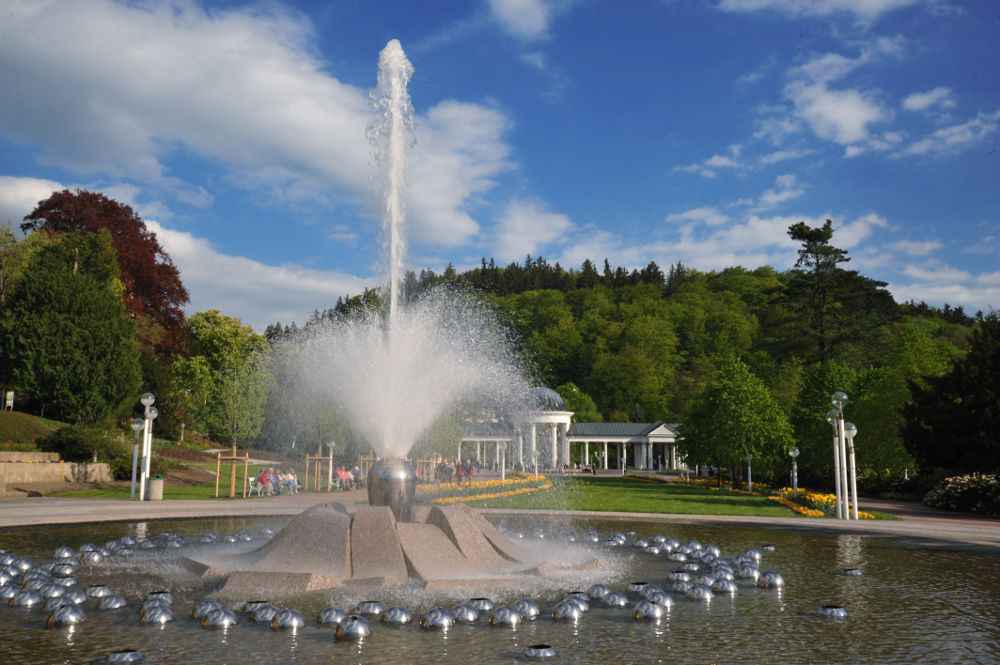 Singing Fountain was built between 1982 and 1986, under the direction of the Municipal National Committee of Mariánské Lázně as a part of the reconstruction of the Maxim Gorky´s promenade area.
The author of the design of the fountain is an academic architect Pavel Mikšík. The architectural and technical cooperation was provided by the architect Otakar Kuča and Ing. Pavel Janeček. The author of the first musical composition "Music for the Fountain" was the famous music composer Petr Hapka. Followed by other works of F. Chopin, W.A. Mozart, J. S. Bach, Ch. Gounoda, B. Smetana, A. Dvořák and others.
A visit to the Singing Fountain in the center of Mariánské Lázně is an unusual experience and one of the main reasons for visiting the city. Do not miss this attraction.